March 2010 marks the 200th anniversary of Frédéric Chopin's birth.
CALL FOR SUBMISSIONS OF ORIGINAL POETRY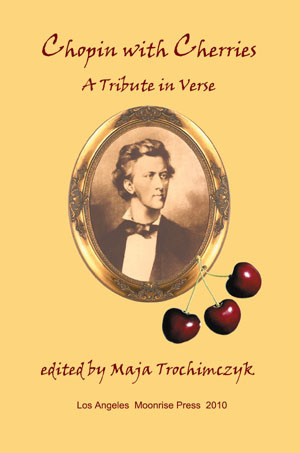 CHOPIN IN POETRY: A Tribute in Verse
An Anthology of Contemporary Poetry
Edited by Maja Trochimczyk
Forthcoming in March 2010 to honor the 200th Anniversary of Chopin's Birth.
Moonrise Press
www.moonrisepress.com
SUBMISSION REQUIREMENTS
§ Original poetry about any aspect of music and life of Frédéric Chopin (1810-1849),
Polish pianist and composer
§
Deadline – August 1, 2009
§ Language – English
§ Length – maximum 39 lines per poem, 3 poems
§ Format – email
majat@verizon.net
with the poem(s) both in the body of the message and attachment in MS Word or rtf, or to
info@moonrisepress.com
with the poem(s) in the body of the message
§ Address and contact information of the author included in the body of the message
PUBLICATION DATA
The book will be published by Moonrise Press, with an ISBN number.
The authors will retain individual copyright, granting permission to print in the anthology only.
The book will be distributed by online print-on-demand company and available through a network of partners, including Bowkers Books in Print, lulu.com, Amazon, etc.
The authors will receive an off-print of their submission, and a 30% discount on the book price.
* * *
Thanks to Creative Writers' Opportunities for this listing.